Arthur Ashe: Out of the Shadow
The exhibition catalogue for Arthur Ashe: Out of the Shadow, photographs by Jeanne Moutoussamy-Ashe
"This…is an attempt to demystify the mythical status of Arthur Ashe and make the human being behind the accomplishments tangible." —Dr. Petra Richterova in the preface
Arthur Ashe: Out of the Shadow was published by the Arthur Ashe Learning Center in 2011 in conjunction with the exhibition of the same name which was on display at the International Tennis Hall of Fame Museum and Gallery at the U.S. Open. The 60-page catalogue features black and white and color photographs of tennis champion, author and activist Arthur Ashe at work and play through the lens of his wife, photographer Jeanne Moutoussamy-Ashe. It also includes a preface by Dr. Petra Richterova situating Ashe's legacy in a greater historical context; a foreward by Ken Bentley who was Vice President of Community Affairs and Educational Programs at Nestlé USA (who supported the exhibition and book) and a close friend of Ashe's; as well as an artist statement by Moutoussamy-Ashe.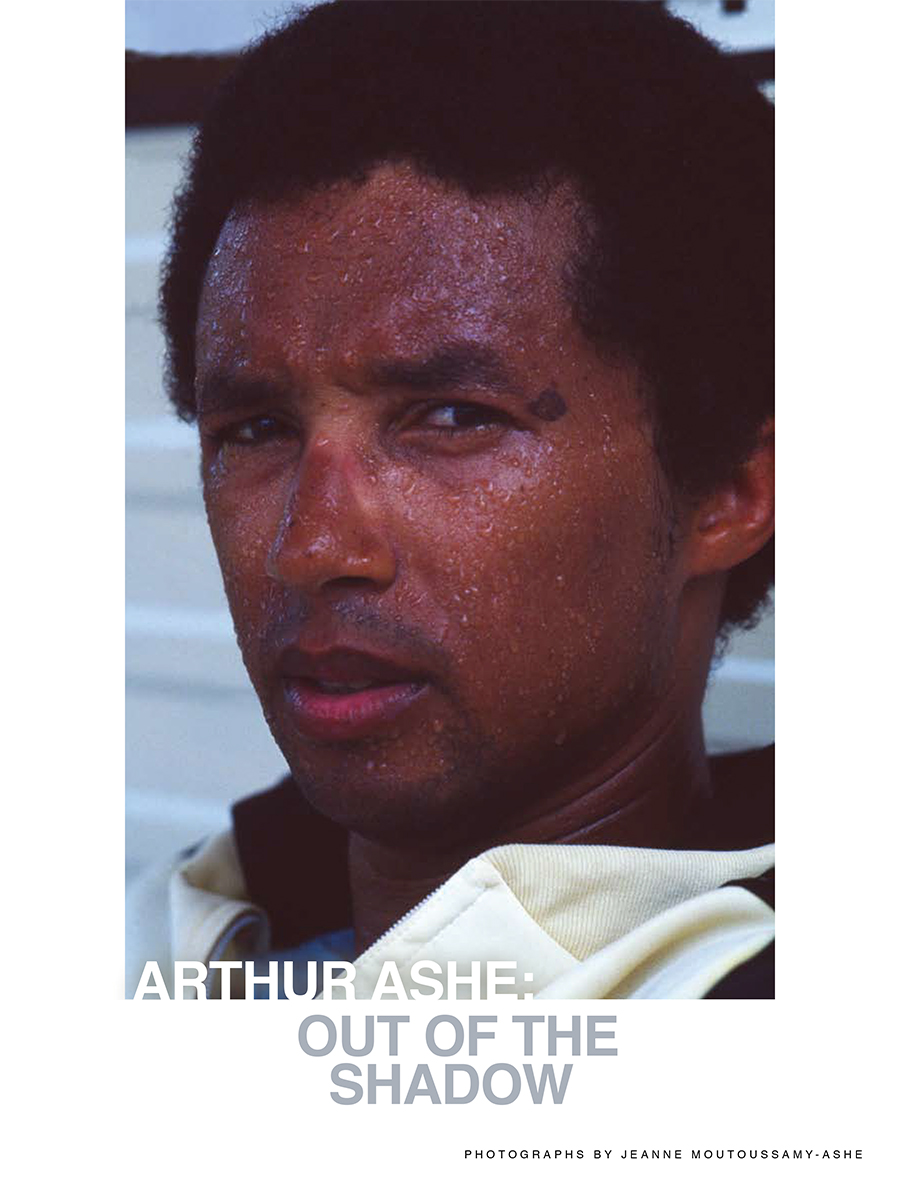 Alongside each of the 30 included photographs are quotes or explanations provided by Moutoussamy-Ashe to create context about what the image means or says about his life. While the book does include some images of him on the court, many more of them show him working, traveling, advocating, teaching or various other activities that consumed much of his attention. As Richterova states in the original essay she wrote for the catalogue, these images are "the opportunity to experience a well-rounded and intimate portrait of an icon."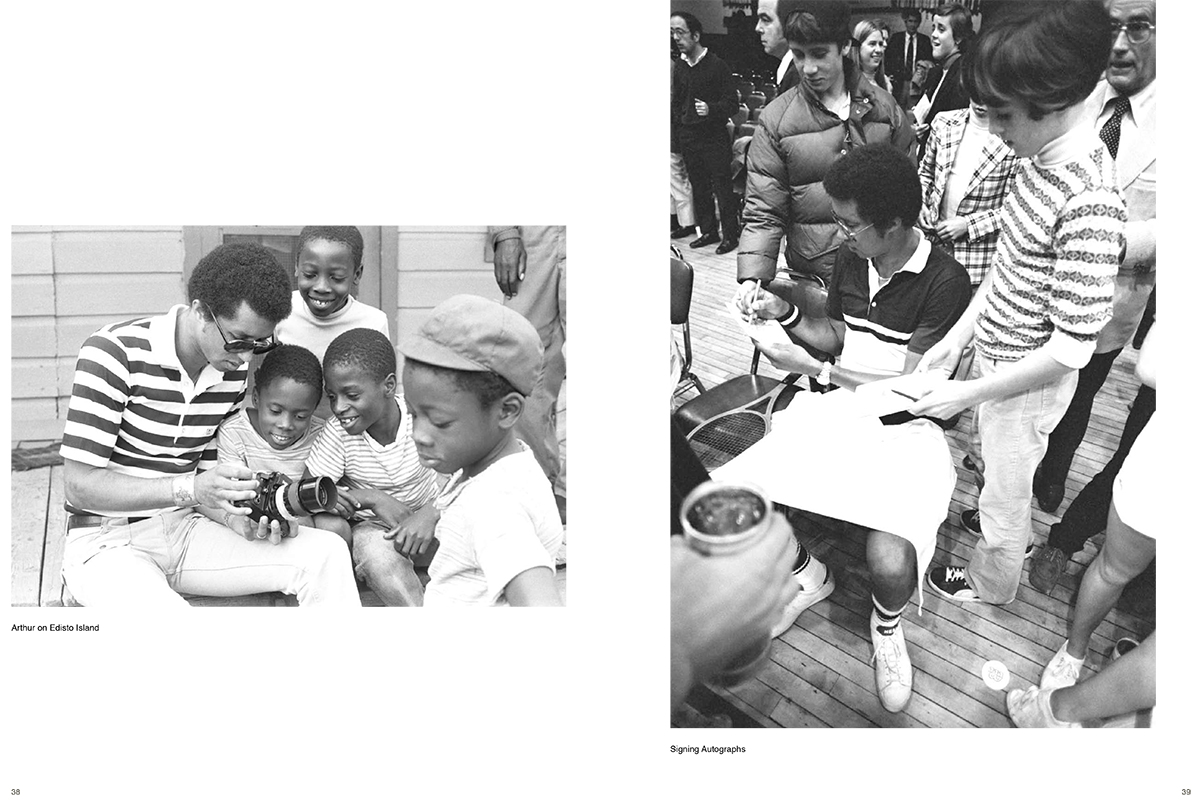 "[These photos] will certainly help those who knew of him and those who were lucky enough to know him not to just remember him through bricks and mortar or bronze statues. More importantly, it is my hope that through these archives, the generation of today and those of tomorrow will know that this was a man of great character, conscience and values." —Jeanne Moutoussamy-Ashe in the Artist's Statement.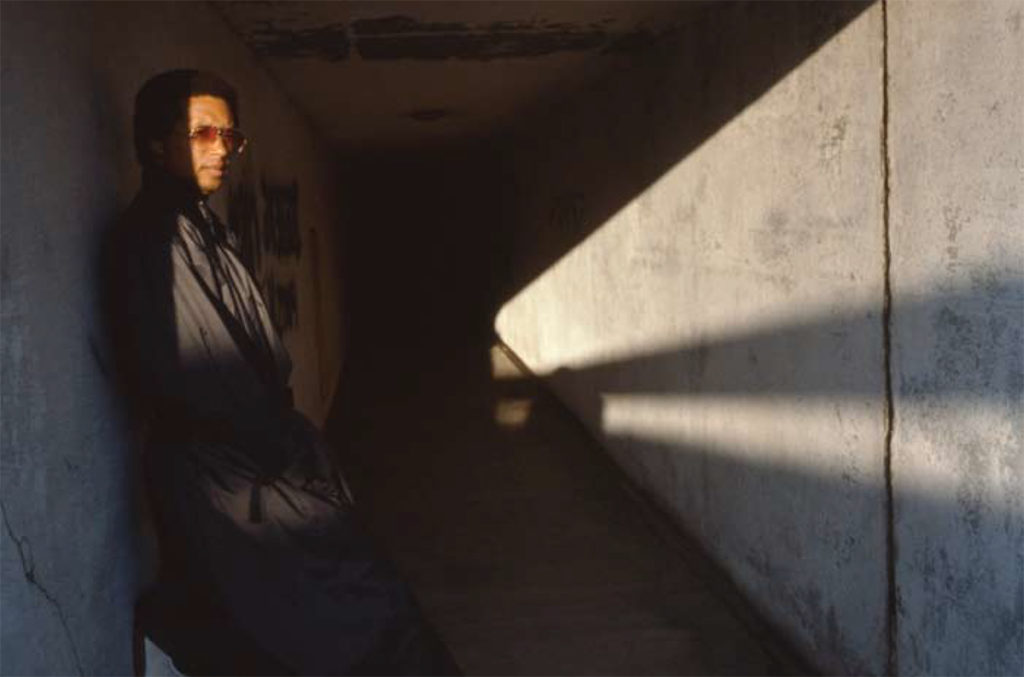 Because these images were taken by Moutousasmy-Ashe, the catalogue contains images of the grand and historic right alongside those that are intimate and quotidien. The AALC, which Moutoussamy-Ashe was Founder and Chairman of, sought to promote Ashe's story and legacy as a source of inspiration for kids and young people. In putting together the exhibition and catalogue they were able to tell and share his story through images with thousands of visitors. This book conveys what Bentley describes in the Foreward as the most valuable lesson he learned from Ashe, that,
Being another Arthur Ashe meant helping those who were less fortunate, standing up for what you believe in and, most of all, leaving a lasting imprint on the world."